Piper Seminole - PA-44-180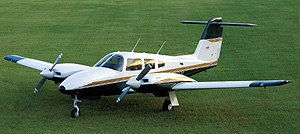 Performance Specifications
Engine
Manufacturer:
Lycoming
Model:
0-360-A1H6/LO-360-A1H6
Horsepower:
180 hp
Weights
Gross Weight:
3800 lbs/1724 kgs
Standard Empty/Equipped Weight (*b,c):
2586 lbs/1173 kgs
Standard Useful Load (*a):
1230 lbs/558 kgs
Dimensions
Wing Span:
38.6 feet/11.8 meters
Length:
27.6 feet/8.4 meters
Height:
8.5 feet/2.6 meters
Wing Area:
183.8 square feet/17.08 square meters
Fuel Capacity
Usable Fuel:
108 gallons/409 litres
Maximum Speed
TAS at Gross Weight:
168 kts/311 kmh
Cruising Speeds
Normal Cruise Speed:
162 kts/300 kmh
Cruising Range
Cruising Range:
610 nm/1130 km
(45 minute reserves at 75% power)
Stall Speed
Flaps Down Full 40 degrees:
IAS 55 kts/IAS 102 kmh
Service Ceiling
Twin Engine (100 fpm):
15,000 feet/4572 meters
Single Engine (50 fpm):
3,800 feet/1158 meters
Take-Off Distance
Total over 50-foot obstacle:
2200 feet/671 meters
Landing Distance
Total over 50-foot obstacle:
1490 feet/454 meters
*a. Standard Useful load is ramp weight minus standard equipped weight.
*b. The standard empty weight and standard equipped weight are the same.
*c. Standard aircraft per marketing.