Piper Seneca V - PA-34-220T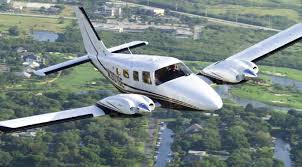 Performance Specifications
Engine
Manufacturer:
Continental
Model:
TSI0-360-RB & L/TSIO-360-RB
Horsepower:
220 hp Take off, 200 hp MCP
Number of Cylinders:
6
Propeller
Manufacturer:
Hartzell
Number of Blades:
2
Type:
Constant Speed, Full Feathering
Weights
Gross Weight:
4750 lbs/2155 kgs
Standard Empty Equipped Weight (*b,c,d):
3377 lbs/1532 kgs
Standard Useful Load (*a):
1373 lbs/623 kgs
Wing Area
Wing Area:
208.7 square feet/19.39 square meters
Dimensions
Wing Span:
38.9 feet/11.9 meters
Length:
28.6 feet/8.7 meters
Height:
9.9 feet/3.0 meters
Cabin Length:
124.25 inches/315.6 centimeters
Cabin Width:
48.75 inches/123.8 centimeters
Cabin Height:
42.0 inches/106.7 centimeters
Headroom (seat to ceiling):
Front Seats: 38 inches/96.5 centimeters
Middle Seats: 35.75 inches/90.8 centimeters
Rear Seats: 34.5 inches/87.7 centimeters
Fuel Capacity
Usable Fuel:
122 gallons/462 litres
Oil Capacity
Oil Capacity:
8 quarts/7.6 litres
Baggage
Volume:
Forward Compartment: 15.3 cubic feet/.43 cubic meters
Aft Compartment: 17.3 cubic feet/.49 meters
Capacity:
Forward Compartment: 100 lbs/45.4 kgs
Aft Compartment: 85 lbs/38.6 kgs
Maximum Speed
KTAS at gross weight:
205 kts/379 ktms
Cruising Speeds
Max Cruise Power:

At 10.000 feet: 184 kts/340 kmh
At 18,500 feet: 198 kts/366 kmh

Normal Cruise Power:

At 10.000 feet: 174 kts/322 kmh
At 18.500 feet: 190 kts/351 kmh
Cruise Range
Cruise range includes 45-minute fuel reserve at
max range cruise power plus allowance for fuel
used during taxi, take-off, climb at MCP, cruise
at stated mixture plus descent.

Max Cruise Power at 10,000 feet: 700 nm/1296 km
Max Cruise Power at 18,500 feet: 660 nm/1222 km

Stall Speed
Flaps Down Full 40 degrees: IAS 61 kts/IAS 113 kmh

Service Ceiling
Two Engines (100 fpm): *25,000-plus feet/7620-plus meters
Single Engine (50 fpm) 17,400 feet/5303 meters
*25,000 feet is the maximum approved altitude for Seneca V

Take-Off Distance
Ground Roll: 1525 feet/465 meters
Total over 50-foot obstacle: 1825 feet/556 meters

Landing Distance
Ground Roll: 1400 feet/427 meters
Total over 50-foot obstacle: 2700 feet/823 meters


*a. Standard Useful load is ramp weight minus standard equipped weight.
*b. The standard empty weight and standard equipped weight are the same.
*c. Standard aircraft per marketing.